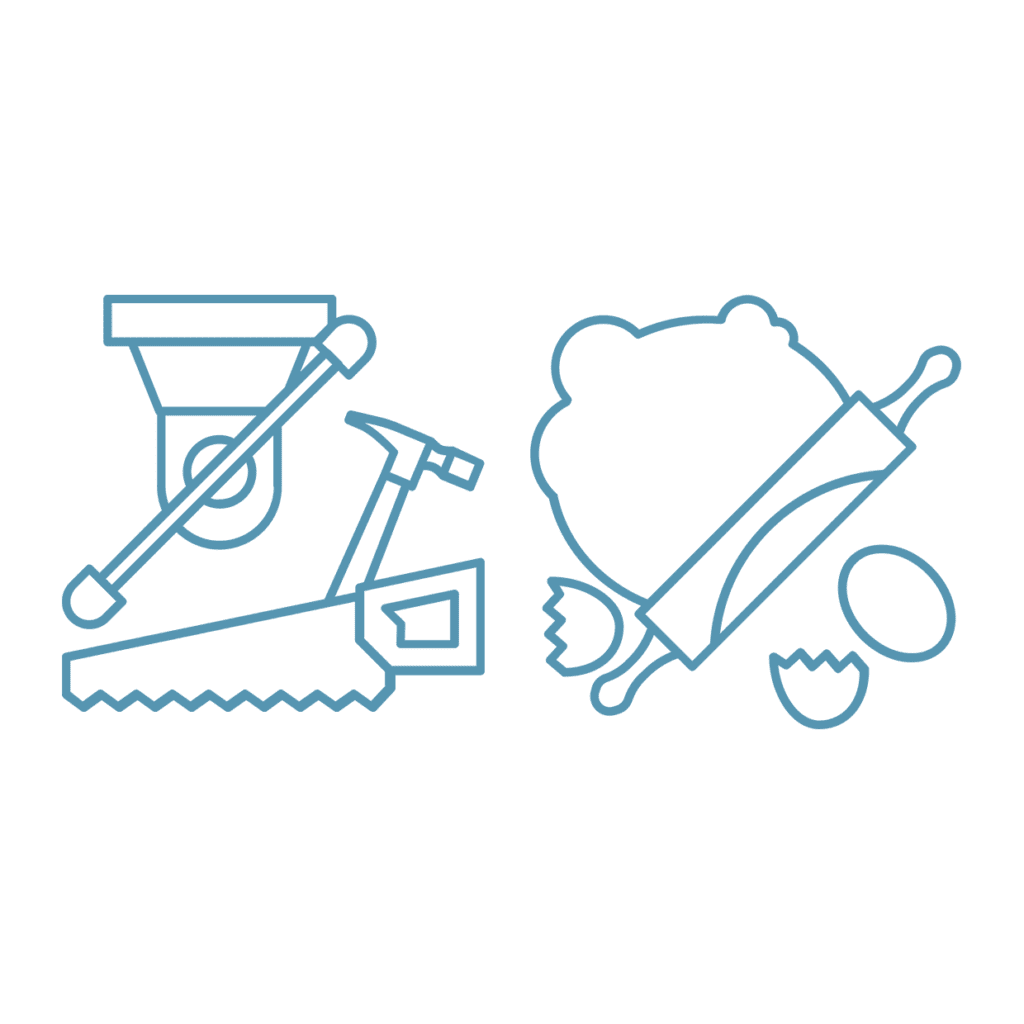 Curriculum Vision
The aims and objectives of the design and technology department relate directly to those of the Academy. Creativity, flair, and innovation are encouraged from year 7 through to year 11.
We see Creative Design as an area of practical and creative activity that aims to prepare young people for life in a changing technological society. We feel that the modern approach to teaching these subjects should emphasize on core life skills during key stage three and building on those with more industry specific skills at GCSE. We aim and endeavour to excite and challenge pupils here at KEVI HWGA.
Overview
Key Stage 3
All our students follow a thorough and well-designed curriculum programme of study. We have carefully developed a course which encompasses the statutory requirements for all of the sub-specialisms at Key Stage 3 and 4, whilst retaining the best of traditional aspects of the subject. This provides years 7, 8 , and 9 with a thorough grounding in a variety of technological skills, creativity and processes. There are approximately 20 students per class and they follow a carousel arrangement, spending 13 weeks in each of the areas of, Design & Technology, Food & Nutrition and Textiles.
Qualifications and Assessment
Key Stage 4
GCSE Design and Technology
Exam Board: AQA
This is a vast subject which covers a range of action-based studies within the curriculum. The subject is concerned with giving all pupils the opportunity to gain experience in identifying, considering and solving problems through the manipulation of a range of materials and technologies, thus helping to prepare them for their future life within a changing technological society. Whilst on this course the students will work with a range of materials and disciplines whilst also learning how to design and use innovation as a tool for success.
This Design & Technology course will prepare your daughter for the next step in her academic career. The course is designed to make the step-up to A-level Product Design a smooth transition.
Studying Design & Technology will allow your Daughter to pursue many exciting and rewarding careers. When combined with good results from Physics and Maths, these three subjects together will allow your daughter to flourish in all creative, engineering and design based industries.
GCSE Design and Technology has 2 assessments
The non-exam assessment will contribute towards 50% of the overall mark. This will take between 30-35 hours to complete and consist of a working prototype and a concise portfolio of approximately 20 pages of A3 paper.
Students will define the needs and wants of the user and include relevant research to produce a design brief and specification. Students will generate design ideas with flair and creativity and develop these to create a final design solution (including modelling). Students will investigate, analyse and evaluate throughout the portfolio and evidence all decisions made.
Written exam 50% of GCSE
Core technical principles, Specialist technical principles, designing and making principles
2 hours
Questions Section A:  based on the core technical principles (20 marks)
A mixture of multiple choice and short answer questions assessing a breadth of technical knowledge and understanding.
Questions Section B: Specialist technical principles (30 marks)
Several short answer questions (2–5 marks) and one extended response to assess a more in depth knowledge of technical principles.
Questions Section C: Designing and making principles (50 marks)
A mixture of short answer and extended response questions
Key Stage 4 – GCSE Food Preparation and Nutrition
Exam Board: WJEC
This course will give students the opportunity to:
Demonstrate effective and safe cooking skills by planning, preparing and cooking a variety of food commodities whilst using different cooking techniques and equipment
Develop knowledge and understanding of the functional properties and chemical characteristics of food as well as a sound knowledge of the nutritional content of food and drinks
Understand the relationship between diet, nutrition and health, including the physiological and psychological effects of poor diet and health
Understand the economic, environmental, ethical and socio-cultural influences on food availability, production processes, diet and health choices
Demonstrate knowledge and understanding of functional and nutritional properties, sensory qualities and microbiological food safety considerations when preparing, processing, storing, cooking and serving food
Understand and explore a range of ingredients and processes from different culinary traditions (traditional British and international) to inspire new ideas or modify existing recipes
In Year 10, within each term will include:
A 2 week "refresher" period at the beginning of year 10, term 1, where a recap with learners the key principles of nutrition and good health / food science / food hygiene and safety. Within the GCSE Food Preparation and Nutrition specification, Learner skills and knowledge developed at KS3 will enhance the key elements taught in Year 10.
Prior learning at KS3 is paramount to ensure all aspects of this specification- The KS3 curriculum is structured to prepare learners for GCSE Food Preparation and Nutrition.
• 4 weeks of commodity based theory and practical sessions
• 1 week of NEA Assessment 1 focus and practise on the key elements of practical and theory based briefs.
• 1 week of general nutrition and diet theory and a linked practical (with associated written work in preparation for NEA Assessment 2)
• In year 10, after 24 weeks of teaching, the basics for each Commodity group will be covered.
In Year 11, building up on prior learning in Year 10 within each term, the time is allocated to both NEA tasks and examination revision.
The remainder of the year will be focusing on specific areas the learners will need to improve on. This could include practical skills, how to conduct and write up NEA's, exam question technique, planning diets, end of term tests etc.
GCSE Food Preparation and Nutrition has two practical assessments, which account for 50% of the marks and a written exam for the remaining 50% of the marks.
Assessment 1: The food investigation assessment: time allocated up to 8 hrs.
A scientific food investigation which will assess the learner's knowledge, skills and understanding in relation to scientific principles underlying the preparation and the cooking of food.
Assessment 2: The food preparation assessment: time allocated up to 12 hrs.
Prepare, cook and present menu which assesses the learner's knowledge, skills and understanding in relation to the planning, preparation, cooking and presentation of food.
Both assessments will be based on a choice of tasks released each year by the awarding body.
Written Exam: 1 hr 45 mins = 50% – Content includes:
• Section A – Questions based on stimulus material.
• Section B – Structured, short and extended response questions to assess content related to food preparation and nutrition.