What is blended learning?
Blended learning is a key aim of the academy, with students one to one devices allowing the integration of classroom face-to-face learning with online/remote learning experiences. The aim is to bring the digital world and classroom teaching together effectively. Blended learning provides a combination of face-to-face learning and dynamic digital activities and content that facilitate anytime/anyplace learning.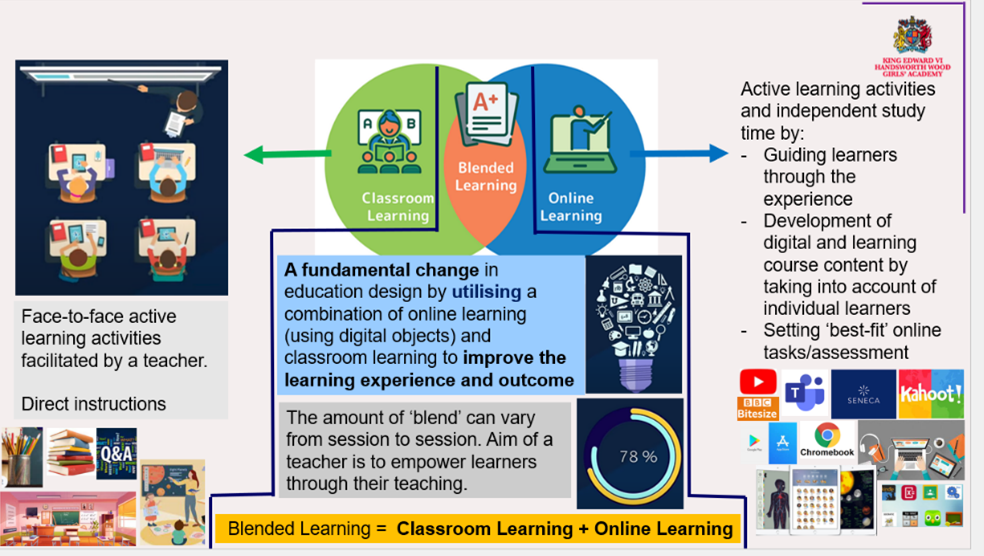 How do students benefit from blended learning?
Students are given opportunities to complete digital assessments and get instant feedback.
Teachers upload digital revision tasks and lesson resources on Teams, so that our students have access to their learning and complete revision and tasks on a digital learning platform at home.
Using Office365 and Teams for effective communication. This enables students to send messages to their teachers, respond to feedback and participate in lesson discussions.
Students can join Teams lessons from home.
To make learning more interactive, we use Multimedia tools to maximise the effectiveness of blended learning methodology. We believe that it is important to develop ICT skills, so that lessons are evolved around using the available ICT tools. As a result, our students will have the necessary skills in new ways of learning and be more competitive.
We use blended learning platform to hold intervention sessions.

Some of our online Platforms:
Premium Seneca Learning – A homework and revision platform with 250+ exam board specific interactive courses. The combination of tech and neuroscience has proven to let students learn 2x faster than revision guides. Seneca uses smart learning algorithms to make student remember topics better. If a student gets a question wrong, they are shown the content again but in a different format. Seneca also hand-selected the best GIFs and memes on the internet so revision takes place as fun.
Educake – An online homework, classwork and revision system for Key Stage 3 and GCSE Science, English, Maths, Geography, History and Computer Science.
HegartyMaths – We have adapted the lesson model in Maths so that each lesson has the questions set on HegartyMaths. This means that students can access the help available on the HegartyMaths website and receive feedback and support from their teacher for each lesson.
GCSEPod – Online resource to help students learn, retain and recall all the information they need to achieve their GCSE goals.
Kerboodle – A subscription service which works alongside your course textbooks to create a truly blended learning solution.
Classoos – Is a service that gives students access to digital textbooks on desktop computers, laptops, tablets, iPads, Chromebooks and smartphones.
What devices do students have?
All students at the academy have been given a one-to-one device, so all students should have these readily available when in lessons. The devices students have are as follows:
Key Stage 3 – iPads (Tablet computers which run the iOS operating systems. The user interface is built around the device's multi-touch screen, including a virtual keyboard. All iPads can connect using Wi-Fi. Students use their iPads to access to various online platforms and when completing set tasks online.
Key Stage 4 and 5 – Chromebook (Laptop running the Linux-based Chrome OS as its operating system, used to perform a variety of tasks using the Google Chrome browser, with most applications and data residing in the cloud rather than on the machine itself. Chromebooks can also run Android apps.
Student behaviour when using Digital Technology
When teacher is demonstrating/instructing, device should not be used, placed on the desk with case closed if necessary to avoid distractions.
Time should not be wasted logging on, this should be done at the beginning of the academy day with devices kept on standby as necessary.
Devices should look after the device, in terms of vandalism and damage.
Devices should only be used as instructed, with appropriate software/web site used.
Students should not be able to use devices in examinations/tests if not appropriate.
Device to remain in the bag if not needed during the lesson.
Devices placed in student bag at the end of each lesson, to avoid damage in corridors.
Useful apps on ipads:
Desmos Graphing Calculator
Desmos Scientific Calculator
Educake for Students
ePlatform by Wheelers
GarageBand
GCSEPod – Education on Demand
GeoGebra Graphing Calculator
iTunes U
Kahoot! Play & Create Quizzes
Khan Academy
Maths Dictionary with Quiz
Mathsspace for Students
Microsoft Authenticator
Microsoft Excel
Microsoft Office
Microsoft Office Lens/PDF Scan
Microsoft OneDrive
Microsoft OneNote
Microsoft Outlook
Microsoft PowerPoint
Microsoft Teams
Microsoft Word
Minecraft Education Edition
PiXL Maths App
Quizlet Flashcards & Homework
SpeedQuizzing – Live
Sumaze! 2
SUPER PADS – Become a DJ
Synthesia, Virtual Guitar Free
Virtual Piano +
Virtuoso Piano Free 3